Apple (NASDAQ:AAPL) released its Q4 results on Thursday, beating analysts' estimates in earnings, revenue and iPhone average selling price. In the company's conference call, CFO Luca Maestri made the shocking revelation that Apple will no longer be providing iPhone, iMac and iPad numbers.
The news caused the stock price to drop from $222.22 at Thursday's close to as low as $206.08 after-hours.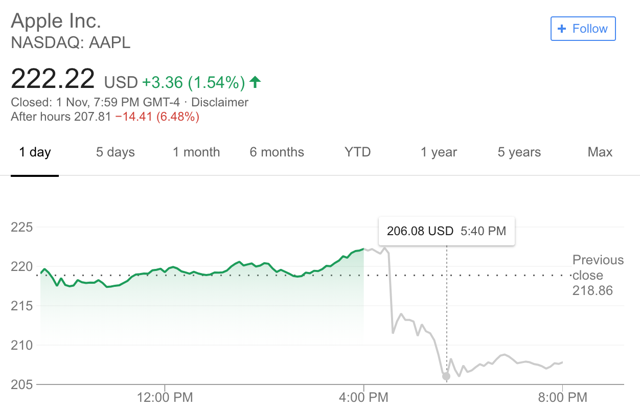 Source: Google
Although Apple left the announcement until the conference call, the significance of the decision is huge. Over 60% of the company's revenue in 2018 has come from iPhone sales alone, meaning that the smartphone device is by far its most important product.
iPhone sales share of Apple's total revenue worldwide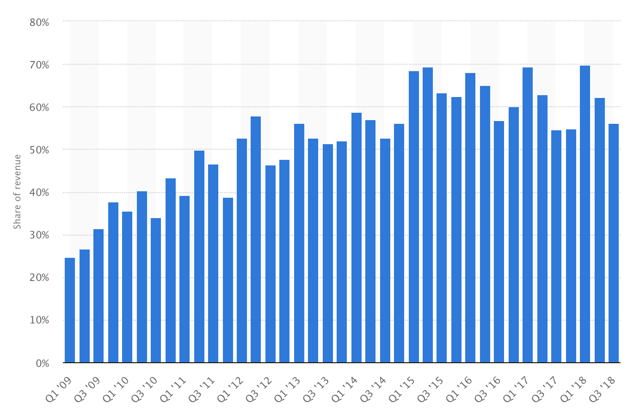 Source: Statista
Whilst most public companies try to warm to their investors, Apple's decision to withhold information that was previously provided could be perceived as giving investors a cold shoulder. I wouldn't go as far as to say that Apple has burned a bridge here, but the company certainly has not strengthened its relationship with the shareholders. Nonetheless, shareholders are partnered with Apple to ride their coattails and reap the benefits of their financial success, not to make friends.
In order to decide how we should react to Apple's new shady stance, we must consider why the tech giant has made the move. Is it obfuscating information to deceive investors from a much darker truth here? I would argue not. Apple is far from being in dire straits and has been demonstrating strength in a time when the stock market bears are winning.
Taking a look at its Q4 earnings, it would seem that the company is doing well too. EPS came in at $2.91, versus analysts' expectations of $2.78. Revenue hit $62.9 billion, higher than the $61.57 billion expected. The average iPhone selling price demolished expectations of $750.78, coming in at $793.
The only area that Apple fell short was on iPhone sales, coming in at 46.89 million, not 47.5 million as forecasted. So, the only area that the company failed to meet expectations is the only area that it is now hiding. What should we make of this?
Well, this is not the first time Apple has missed analysts' targets of iPhone numbers. In 2014, 2016, 2017 and, of course, 2018, it fell short on analysts' expectations of iPhone sales. Nonetheless, the company continued to prove analysts wrong and excel in all other areas. Just because Apple missed analysts' iPhone sales expectations does not mean it failed.
I don't like analysts anyway
Leading up to Q1, anxiety about how well the iPhone X would or would not sell shook Apple stock price. When the company eventually announced on February 1st that its 10-year-anniversary, industry-shifting flagship failed to meet sales expectations in Q1, the stock price slipped to its lowest in 2018.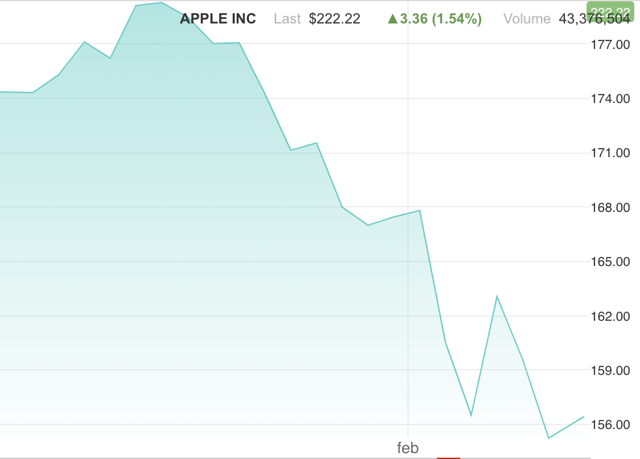 I saw this as an immediate buying opportunity. Apple sold 77.3 million iPhones instead of 80 million as expected by analysts. Was it now a lousy company because it sold just under 3 million iPhones than some Wall Street nerd had predicted? Of course not. 77.3 million is a gargantuan number of anything, and selling 77.3 million of your main product is unquestionably an impressive feat. Thus, analysts' predictions in terms of iPhone sales actually mattered very little to me – all it did was bring down Apple stock price for me to buy more.
However, from Apple's perspective, analysts' predictions matter, as they are damaging to the stock price. Apple missing the numbers, which eventually prove to be somewhat unfounded and arbitrary, makes for great headline stealers, but this is not an accurate reflection of the company's achievements.
Whilst the company continues to outperform financially, Apple suffers far too much from analysts' expectations. By hiding these numbers, the stock price won't be as vulnerable any more.
CFO Luca Maestri said in the conference call that the number of units Apple sells each quarter is "not necessarily representative of the underlying strength of our business." He added that "a unit of sale is less relevant for us today than it was in the past, given our breadth of our portfolio and the wider sales price dispersion within any given product line."
Maestri also reminded shareholders that "top competitors in smartphones, in tablets, in computers do not provide quarterly unit sales information, either." It's true – Google (NASDAQ:GOOG) doesn't reveal Pixel numbers. Apple also doesn't reveal Apple Watch numbers, and its increasingly popular AirPods are listed in "other products".

Source: Apple 10-K 2017
The bottom line here is: does Apple's decision to hide iPhone sales change the fundamental structure of the business? Absolutely not. Will the average consumer who has their eye on a new iPhone be affected at all by this news? Definitely not. The reasons why people are buying Apple products have not changed in the slightest.
Therefore, shareholders who believe in Apple should not be deterred by the company's new decision. If anything, this could be one of the last chances to buy an analyst-iPhone-expectation-related dip.
Disclosure: I am/we are long AAPL.
I wrote this article myself, and it expresses my own opinions. I am not receiving compensation for it (other than from Seeking Alpha). I have no business relationship with any company whose stock is mentioned in this article.
Related Posts: