The California Gold Rush of 1848 brought fame and fortune to a select few and trouble for many. Recreational cannabis may do the same. It was legalized in California as of 1st January. It will almost certainly be legal in Canada this coming July. This presents many traps for the unwary investor. The history of Growlife (OTCPK:PHOT) is an example of this.
New moves this week by Attorney General Sessions may cast a pall over the entire recreational cannabis sector. Medical marijuana looks a better play, especially GW Pharmaceuticals (NASDAQ:GWPH). Even that is not without its risks.
Government Policy
In a previous article, I gave details of how the Trump Administration could yet be a barrier for the cannabis industry. Many correspondents said this was not a risk and the movement was unstoppable. However, the news out of Washington this week shows that the concept of my article was correct.
Under President Obama, the so-called "Cole Memo" left it up to individual states to enforce cannabis laws. Now, a memo from the Attorney General's office instructs federal officials to move actively against the those breaking federal law. The memo decrees that officials should:
"Disrupt criminal organisations, tackle the growing drug crisis and thwart violent crime."
Sessions is well-known for his opposition to cannabis reform. He famously, and bizarrely, stated that the Ku Klux Klan was "okay until I found out they smoked pot". He is also an advocate of States' rights. He has now indicated that the Cole Memo will be rescinded. That would mean federal law officials could go into states where cannabis is legal and take action against companies and users. This would be under the purview of the Justice Department and the Controlled Substances Act. Cannabis is still a Schedule 1 drug, on a par with heroin. At present, the DEA (Drug Enforcement Agency) shows no inclination to turn back from its unsuccessful "War on Drugs".
How this will play out in practice is hard to determine. There was an instant negative reaction from some members of Congress. Especially vocal was the Republican senator for Colorado, Cory Gardner. Sessions seems to have united an unlikely coalition of States' rights advocates and drug law reformers.
Trump himself in the election campaign had stated he was in favor of leaving the matter up to individual states. The immediate effect on cannabis companies' stock prices was not hard to determine. Many of them fell sharply on the news.
California
The legalization of recreational cannabis seemed to be going ahead full steam. It looks like it will be a similar social trend to, say, gay marriage. It is now accepted almost everywhere. A recent Gallup poll showed 63% of the population of the USA favor the legalization of recreational cannabis.
In California, as of 1st January, adults aged over 21 can grow up to 6 plants domestically and possess 1 ounce of the finished product. 90 retail licences had been granted around the state so far. Some communities, though, are saying they will not issue licenses for retail business.
In California, Fortune magazine has estimated that sales will total US$6.5 billion. That would represent 70% of the total U.S. market. The other states to have legalized recreational use are Alaska, Colorado, Massachusetts, Maine, Nevada, Oregon and Washington. University of California Davis estimates recreational sales of cannabis to hit US$5 billion within a few years.
Ackrell Capital issued a report that emphasizes growth will depend upon a sliding scale of what the federal government does. A hands-off approach would lead to sales of US$40 billion by 2022, serving 20 million consumers. A more proactive approach could lead to sales of US$120 billion. Key issues to growth will be the continuation or not of a ban on banking services for cannabis companies under the aegis of the Treasury Department.
It is not just growing and selling marijuana which could see a market boom. Flowers, growing equipment and all sorts of infused products all have potential.
There is a trend for cannabis as a "wellness" product. Some more obscure areas are cannabis chocolate, bubble baths and lubricants for female orgasms. Some of these are pictured below in a California shop, taken from the Guardian newspaper: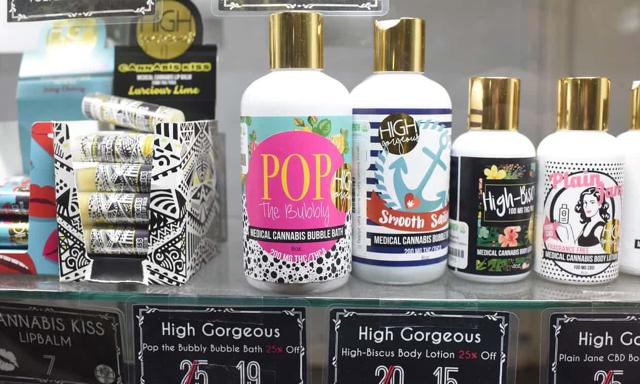 Retail shops are areas seeing a lot of investment. Tests will have to be carried out for the potency of product on sale, and for the presence or absence of pesticides and other contaminants. Specialist applications and sales of items such as childproof containers could be meaningful in dollar terms.
Canada
Those looking to get in now on Canadian legalization are probably too late. Valuations are already very steep. This can be seen by a look at the four largest and most popular Canadian cannabis plays.
Scotts Miracle-Gro (NYSE:SMG) has a market cap of US$6.15 billion and rose 18% last year. The price fell by only 2.2% on the announcement from Sessions.
Canopy Growth (TSX:WEED) (OTCPK:TWMJF) has a market cap of US$5.68 billion and rose 216% last year. The price fell 9.6% on the Sessions announcement.
Aurora Cannabis (TSX:ACB) (OTCQX:ACBFF) has a market cap of US$4.3 billion and rose 321% last year. The price fell 8% on the Sessions announcement.
Aphria [TSX:APH] (OTCQB:APHQF) has a market cap of US$2.84 billion and rose 268% last year. The price fell 13% on the Sessions announcement.
Canadian cannabis companies' stock prices had boomed back in 2015 when the newly-elected Trudeau government confirmed its legalization plans. Companies such as these are generally not profitable now. They are unlikely to be so in the near-future as capex requirements increase. One interesting development was the stake that Constellation Brands (NYSE:STZ) took in Canopy Growth. Alcohol companies taking stakes in cannabis companies could be a future trend.
In the state ballots for cannabis legalization in the USA, alcohol companies had been at the forefront of financing campaigns against recreational cannabis. They may be deciding now "if you can't beat them, join them".
The same may well be true of "Big Tobacco". That is an industry with plenty of money but a declining product.
In Canada, there could be complex social and economic problems with the arrival of a new legal mass market consumer product. Pharmacies not wishing to obey the law, home grow violations, and problems with the U.S. border could all be tricky issues.
The estimate of market size varies greatly. Recreational sales have been variously estimated to be as low as US$2.3 billion or as high as US$4.5 billion by 2021. One of the more bullish forecasts came from Deloitte. They estimated the Canadian recreational and medical market to be worth anything between US$4.9 billion and US$8.7 billion.
Growlife
This company exemplifies both the opportunities and the pitfalls of investing in recreational cannabis. I wrote briefly about this company back in March 2015 after it had been suspended by the SEC the previous year. In an article then, I had quoted how the SEC had questioned:
"The accuracy and adequacy of information in the marketplace and potentially manipulative transactions in PHOT's common stock."
The company has been mainly engaged in specialty hydroponics equipment, farming soil and related products. These you would think definitely have a fairly low glass ceiling. That explains the shareholder dilution and what some saw as the questionable financing practices in which the company may have been involved. There was also quite a lot of "pump and dump" commentary on financial websites such as Seeking Alpha. There is no proof that these were coordinated by anyone connected to the company. It should be pointed out it is under new and more professional management since then.
A 5-year stock chart (from Charles Schwab, subscription required) illustrates the picture: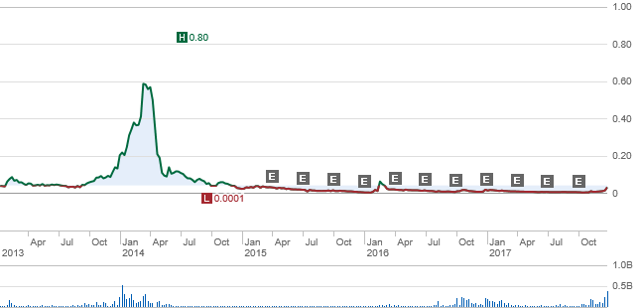 In 2016, it got its listing back and bought hydroponics specialty retailer "Go Green".
The 1-month stock chart (from Charles Schwab) is interesting: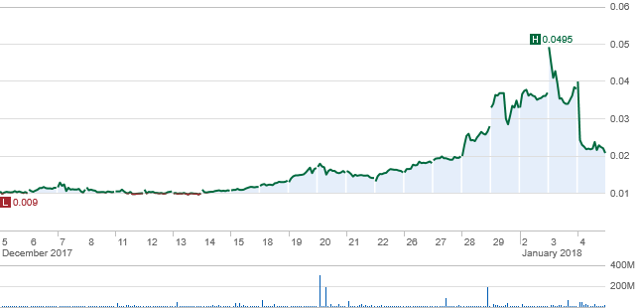 The stock price collapsed 45% on the day of the news of the memo from Sessions. Before then, the price had been boosted by some recent promising developments from the company.
Firstly, they announced the opening of a retail store in Calgary. This of course is preparatory to the expected July legalization of recreational cannabis.
Secondly, they announced their new home cultivation system "GrowLife Cube Pro". This might serve to give them an edge over a lot of the generic products out in the market. The company claims to be a consultant and educator to the market. It sees itself as not just a seller of products which other companies can quite easily replicate. California has a population of 40 million and the law stipulates that all cannabis must be grown indoors. So Growlife no doubt see a big potential market here.
Under the new management, there is a possibility that the company has a good future. There is also a possibility that the past will repeat itself. There are other companies in similar market sectors. Some of them are noted here. Investors should do their own due diligence.
Medical Marijuana
The way forward for medical marijuana is more straightforward than for recreational cannabis. Already 30 states have medical marijuana laws. More are likely to follow in 2018. It is estimated that medical marijuana sales in California already total US$2 billion a year.
The campaign by Sessions against cannabis may or may not have a negative impact on medical marijuana. For instance, the price of GW Pharma only fell 0.36% on news of the comments by Sessions. This may be an under-reaction in my view. Medical marijuana is currently protected by the Rohrbacher-Farr amendment, detailed here. With public opinion very strongly in favor of medical marijuana, Congressmen may not be keen to support Sessions. Government departments could, however, slow down drug approval processes.
GW Pharma remains the best play in this sector. My article in November gave details of this. There have been further positive developments since then.
At the end of December, the company submitted its MAA (Marketing Authorization Application) to the EMA (European Medicines Agency) for "epidiolex" for childhood epilepsies. This can be seen as a concurrent process with that undertaken with the FDA (Foods & Drugs Administration) in the USA. The European medical cannabis market is developing quite rapidly.
Also, at the end of December, the FDA accepted the company's filing for "epidiolex" for Priority Review.
Earlier in the month, the company announced it had brought back the full rights to develop and commercialize its "sativex" oral spray in the USA from Otsuka Pharmaceutical Co. Ltd.
I have written elsewhere about other companies in the medical marijuana space, most recently in November. Essentially, none of them have the depth and breadth of product of GW Pharma. Very few match its financial strength either.
One company touted by some is Insys Therapeutics (NASDAQ:INSY). I have warned against this because of its ongoing legal problems. This relates to its marketing practices for its fentanyl opiod spray "subsys". The stock price had surged over the first few days of January. This was probably on the back of short covering. Its 3-year stock price tells a not uncommon story in this space: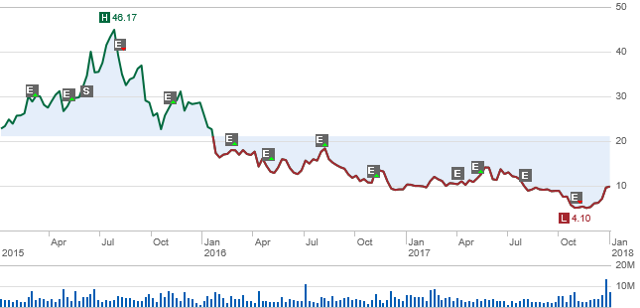 On the day of the announcement from Sessions, its stock price fell 26%.
Medical potential of course presupposes that marijuana or marijuana derivatives are indeed beneficial. Certain developments in the next couple of years could be a strong green light. These would include more FDA drug approvals, more states approving medical marijuana, and removal of CBD from the Controlled Substances Act. The latter probably requires a change of government at the federal level.
Internationally, the medical marijuana market is moving at a far faster pace than the recreational cannabis legalization trend. For instance, GW Pharma's "Sativex" drug is approved in over 30 countries worldwide. Strong medical marijuana companies are springing up in Israel and Germany, amongst others. At present, only Uruguay, Canada and Germany export medical marijuana. Australia is set to join this group shortly.
Different laws in different countries will continue to make medical marijuana products tricky to market worldwide. For instance, GW Pharma's "sativex" may be approved in 30 countries and likely to be approved in a lot more during 2018. A list of the approvals shows they are mainly in Europe and Australasia.
However, some countries, especially in Asia, have a zero tolerance policy to anything to do with any drugs. For instance, in Singapore, the fact that "sativex" contains CBD (cannabidiol) and THC (tetrahydrocannabinol) means it is not licensed there. Additionally, anyone travelling there with "sativex" could be liable to very harsh punishments. Other countries may take a similar stance against medical marijuana products. So drugs produced from cannabis compounds will pose added marketing problems.
Conclusion
The cannabis market has many similarities to that of cryptocurrencies. It appears to be the future, but no-one knows quite to what extent. Political uncertainty will remain a key factor. The stand by Sessions against cannabis may be likened to King Canute ordering the tide to recede. Short term, though, it could have big consequences.
No doubt recreational cannabis and medical marijuana will both be huge markets in the future. Analyst estimates of dollar value vary hugely. Alcohol and tobacco companies may become big players.
It should be remembered that early adopter companies in a new industry often are not necessarily the ones that make it big. We are seeing this in the 3D printing space at the moment.
Interesting opportunities undoubtedly abound in both the recreational and medical arena. Political barriers should not be underestimated. The latest intervention by Sessions has sowed new seeds of doubt. Any money invested in cannabis companies should be money you can afford to lose.
Disclosure: I am/we are long GWPH.
I wrote this article myself, and it expresses my own opinions. I am not receiving compensation for it (other than from Seeking Alpha). I have no business relationship with any company whose stock is mentioned in this article.
Editor's Note: This article covers one or more stocks trading at less than $1 per share and/or with less than a $100 million market cap. Please be aware of the risks associated with these stocks.
Related Posts: